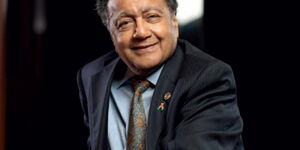 Dr. Manu Chandaria, OBE, EBS, is founding chairman of the East African Business Council and the Kenya Private Sector Alliance, an umbrella body representing over two hundred sectors and organizations.
He is a Council member of the University of Nairobi which awarded him a Doctorate of Sciences.
In 2003 Her Majesty Queen Elizabeth II conferred an OBE (Order of the British Empire) in recognition of his community work and promotion of Kenyan economic interests.
He is the benefactor of numerous schools and clinics in Kenya and is or has been with involved with more than 25 organisations.