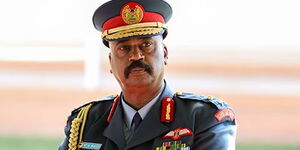 Mohammed Badi is the current Director General of the newly-formed Nairobi Metropolitan Services (NMS). Badi has been tasked with the responsibility of transforming Nairobi city. The Retired Army man has a Master's Degree of Science in Strategic Studies and worked for over thirty years as Government Certification Officer.
Until his appointment, Badi was a senior air director at the National Defence College where he was in charge of Kenya Air Force staff training. Prior to his posting at NDC, Badi who is a logistics helicopter pilot served as the Base Commander in charge of Moi Air Base in Eastleigh, Nairobi. He was promoted to the rank of Major-General in a major shakeup within the military ranks in May 2019.
The retired Major General served as a United Nations staffer during the 1999 Sierra Leone Peacekeeping mission. General Badi has been instrumental in transforming Nairobi since President Uhuru Kenyatta appointed him to head NMS in March 2020. The city has seen tremendous improvement. He has been  overseeing the day-to-day activities in Nairobi County, after Governor Mike Sonko signed off four key functions of the county, including planning, and transport, to the national government.
Described as a detail-oriented manager who watches the balance sheet like a hawk without losing sight of the strategic objective, Badi oversaw the construction of an asphalt plant along Kangundo which will provide material for upgrading and re-carpeting of city roads. The plant is expected to produce 2,400 tonnes of asphalt per day, enough to recarpet 3kms. He has on many occasions supervised in person garbage collection in Muthurwa Market and other areas, besides employing jobless youths to help clean the city and unclog blocked drainage system; benefitting youths ravaged by the pandemic. Under his watch, major walkways in the city including Kenyatta Avenue, Koinange Streets have received a facelift - which has made walking in the city much safer and easier.