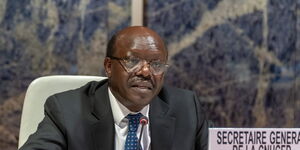 Mukhisa Kitui, of Kenya, became UNCTAD's seventh Secretary-General on 1 September 2013. After serving an initial four-year term, he was reappointed by the General Assembly in July 2017 for an additional term that began on 1 September that year.
He was elected to the Kenyan Parliament in 1992, and was twice re-elected.
From 2008 to 2012, Dr. Kituyi was a member of a team of experts advising the presidents of the nations of the East African Community on how to establish more effective regional economic links.
From 2011 to 2012, he was a consultant for the African Union Commission, where he helped to develop the structure for a pan-African free trade area.
He was Kenya's Minister of Trade and Industry from 2002 to 2007. During this period, Dr. Kituyi chaired for two years the Council of Ministers of the Common Market for Eastern and Southern Africa (COMESA) and the African Trade Ministers' Council.