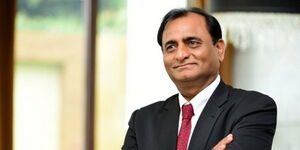 Narendra Raval is a Kenyan industrialist, entrepreneur and philanthropist.
He is the Executive Chairman of the Devki Group of Companies, a conglomerate in East Africa that manufactures steel, aluminum and cement.
Raval is among a few Kenyans who have been featured on the Forbes list. The 60-year-old had an estimated net worth of about Ksh50 billion, according to Forbes 2015 list of Africa's 50 richest people. Today, he is worth approximately Ksh100 billion.  
Devki Group has become East Africa's largest construction material company.
Companies under the Devki Group of companies include; Devki Steel Mills Limited, Maisha Mabati Mills Limited, National Cement Companies Limited and Northwood Agencies Limited.
Devki Group of companies has employed over 4000 employees and has an annual revenue of Ksh65 Billion.  
In a past function with President William Ruto, the businessman revealed that he was one of the people victimised for associating with the President.
On November 18, 2022, Raval opened a new factory estimated to be worth Ksh30 billion in Kwale County.