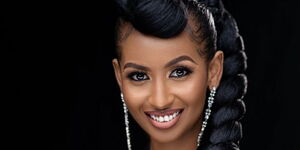 Hassan is a Kenyan actress who has starred in films such as Just in time that debuted on Netflix.
The celebrated actress is also the main character of the show Zora, the most-watched show in Kenya.
She has also featured in Kenya's first original show max series - Crime & justice
Hassan is a champion for education as a right and not as a privilege working with Global Initiative for Economic, Social and Cultural Rights- GI-ESCR,
She is a panelist at the recently concluded Creative Africa Nexus 2021 at the Intra- African Trade Fair (IATF), an initiative funded by Afrexim bank.
 It is meant to bring together the best and brightest of Africa's creative sector, curated to highlight the significance of the creative sector to African economies, and designed to support the creative industries in Africa.
Moreover, she won the best newcomer producer award during the Women in Film Awards 2021 (WIFA).
 Some of the notable films she has produced include 40 sticks, Plan B, Reflections & The Company you keep. 40 sticks was recently released on Netflix.