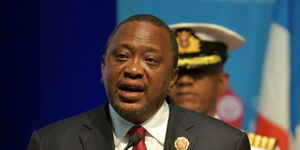 Uhuru Kenyatta was the fourth President of the Republic of Kenya - a position he served for two terms between 2013 and 2022, under the Jubilee party. 
Son to the country's founding president, Jomo Kenyatta, Uhuru was often perceived as the heir to the proverbial throne. 
He first came to political limelight during the 1997 General Election when he unsuccessfully vied for the Gatundu South parliamentary seat. 
Two years later, the late President Daniel Moi appointed him to chair Kenya Tourism Board- a government parastatal before he was nominated as a Member of Parliament in 2001 and subsequently joined the Cabinet as a Minister for Local Government. 
Despite his inexperience, he was touted by Moi to succeed him in the 2002 General Election. Uhuru ran under the KANU wing but lost to Mwai Kibaki by a wide margin. 
Uhuru later backed Kibaki for re-election in the 2007 General Election- and was named Minister of Local Government in the Grand Coalition government. 
He later became Deputy Prime Minister and Minister of Trade in April 2008. The former president was then appointed Minister of Finance for three years and resigned in 2012 after he was accused by the International Criminal Court of carrying out schemes that led to the 2008/08 post election violence. The charges were however, dropped due to lack of evidence. 
In 2013, Uhuru was elected as the president of Kenya- defeating his fierce rival, ODM party leader Raila Odinga with a narrow margin. 
Uhuru handed over the instruments of power to his successor, President William Ruto, on September 13, 2022. He has received praise and backlash in equal measure over his reign. Some have praised him for the multibillion infrastructure projects while others have castigated his reign for sinking the country into debt. 
Post election, Uhuru took up the role as East Africa peacekeeping missions across the East African nations