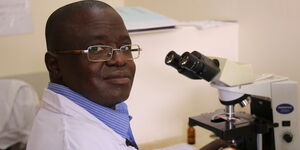 Dr Walter Otieno is a renowned researcher in the health field and the Head of  Paediatrics and Child Health at Maseno University School of Medicine.
He holds a PhD in Molecular Medicine from the University of Nairobi, a Master in Medicine (Pediatrics), a Bachelor of Medicine, and a Bachelor of Surgery from the same University.
Dr Otieno has had a significant contribution to the health sector, with the most notable being his role in the development of a malaria vaccine aimed at preventing the contraction of the deadly disease. 
His vaccine was approved by the World Health Organization (WHO) in October 2021 after several test runs by the multinational body. 
When asked about his inspiration in his extensive research works, Dr Otieno cited his love for children as his greatest motivation. 
In addition, the paediatrician has worked with multinational research organizations including the United States Army Medical Research Unit.