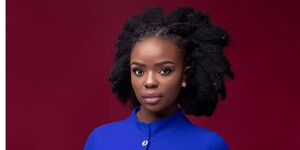 The lead protagonist in Citizen TV's drama series Maria, Yasmin Said acts as an assuming rough around the edges girl from the slums who was taken to live with a wealthy family.
The local drama series has catapulted Said into stardom pulling thousands of viewers on her debut screen act.  
The 20-year-old landed the star role while still at Ribe High School, Kilifi County, in 2019. She impressed Citizen TV's Lulu Hassan and Rashid Abdalla, the producers of the local TV series. 
While many associate her character with the qualities possessed by Maria, she tends to live a quiet life out of the public limelight.
The actress revealed that she is determined to make great strides in her acting career despite her prior aspirations of pursuing journalism or law. Her plans to join the university in 2020  stalled due to the Covid-19 pandemic.
In 2020, the talented Said was appointed as a brand ambassador for Indomie company in an initiative dubbed Jiamini. The project seeks to aid young girls with basic amenities such as sanitary towels and foodstuffs. 
To cushion disadvantaged families from the effects of the pandemic, Said and her friends visited areas such as Ngara, Donholm, Kibera where they helped distribute various supplies and encouraged talented children and youth to pursue their dreams.