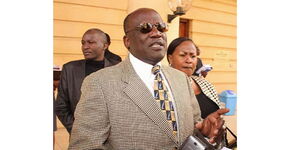 Johnson Nduya Muthama is a Kenyan politician who served as Machakos Senator between 2013 and 2017. 
Muthama was born on October 20, 1954, to a peasant family in Machakos. He received modest education before leaving home in the search of informal employment.
In his late teenage years, Muthama visited his uncle who worked in the Taita Taveta mines and was employed as a tea boy. As he rose through the ranks, the owners of the mines, John Saul and Eliot Miller, were forcefully deported as Mzee Jomo Kenyatta had eyes on the precious ruby mines that were being mined by Muthama's employers.
The deportation saw Muthama inherit some of their businesses and became one of the largest dealers in the ruby business through his company, Rockland Limited. 
He ventured into elective politics in 2007 when he was elected Kangundo MP on the ODM Kenya ticket (now Wiper Party). Muthama served as government chief whip between 2008 and 2013 when he was elected Machakos Senator. 
He did not seek re-election in 2017 after a fallout with his party leader Kalonzo Musyoka - whom he has since claimed to have funded for many years. He has since switched loyalties to Deputy President William Ruto. 
He currently chairs the UDA party which is associated with the DP and believed to be his back up vehicle for the 2022 presidential election.
Muthama recently led the UDA campaigns in the Machakos by-election but his candidate, Urbanus Ngengele, was defeated by his ex-wife Agnes Kavindu Muthama - the current Machakos Senator.