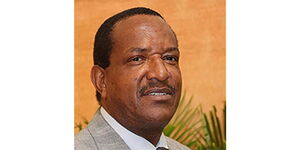 Joseph William Nthiga Kingang'i Nyagah, popularly known as Joe Nyaga, was a Kenya politician who passed on in December 2020. 
Nyaga was born on 6th January 1948 to an elite family in Mbeere, Embu county. 
His grandfather was one of the first people to embrace Christianity and education and had Joe's father, Jeremiah Nyaga, educated at elite schools including Alliance High School and Makerere University. 
As at the time of Joe's birth, his father was working as an education officer for the colonial government but later became the Eastern Region's representative in the Legco (the equivalent of Parliament). 
At a young age, Joe Nyaga was exposed to prominent political leaders who were his father's colleagues and who came to shape Kenya's politics in later years. They lived next door to figures such as Daniel Arap Moi, Eliud Mathu, Jonathan Kiano, among others. 
Joe attended Alliance High School and the University of Nairobi before proceeding to the US where he obtained his MBA. 
He worked as a banker in the US for ten years before joining public service as Kenya's ambassador to the European Union (EU). 
Joe was also picked by the Moi government to serve as Kenya Airways CEO between 1988 and 1992. 
He joined elective politics in 1997, taking his father's old seat where he was elected Gachoka MP. Under President Daniel Arap Moi, he served as a Cabinet Minister in the ministries of Land as well as in the Ministry of Information and Broadcasting. 
In 2002, he was elected on a NARC ticket but only rose to the level of assistant minister before he was sacked for opposing the 2005 proposed constitution. 
In 2007, Nyaga unsuccessfully sought the ODM presidential ticket but lost to Raila Odinga. He subsequently became a member of the Pentagon - the party's most powerful body at the time. 
He lost his Gachoka parliamentary seat but was nominated to Parliament by ODM. 
Joe Nyaga served as Minister for Cooperatives Development in the grand coalition government. 
In his last years, he served as Chancellor of the Cooperatives University of Kenya. He lost his life due to Covid-19 complications and was buried at the Nyaga family home in Embu.