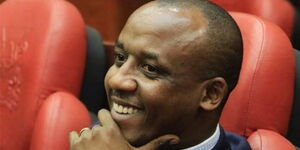 Mutula Kilonzo Jnr is the current Senator for Makueni County. He is a professional lawyer and a certified public secretary. He serves as an advocate of the High Court of Kenya - and is an associate of the Chartered Institute of Arbitrators, Kenya.
He has been honoured as a member of the Committee on Justice, Legal Affairs and Human Rights.
In 2020, he has been at the forefront championing for the rights of the everyday citizen during Senate hearings. 
Mutula, who is serving his second term in the Senate, was ranked the best performing Senator in Kenya in 2020 beating more experienced lawmakers in the country.
The astute lawyer has followed in the footsteps of his late father Mutula Kilonzo - often adopting a no-nonsense approach when it comes to probing and interrogating corrupt dealings. 
He will be remembered for taking a leading role during the discussions around the controversial revenue sharing formula.