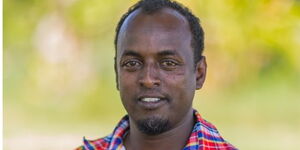 Abdikadir Ismail is the Principal of Mwangaza Muslim Mixed Day Secondary School, Kenya. Ismail's drive and determination as a teacher has seen him stand out from his peers and rise through the ranks.
After university, Abdikadir was posted in Baragoi, a hardship area prone to cattle rustling in Samburu County.  
Due to the constant cattle rustling and insecurity, many teachers fled the region but Abdikadir stayed put. He took the initiative to partner with a variety of organisations to implement projects, including organising scholarships to help children stay in school.
He also explored the use of technology to redefine teaching in remote areas. This unique approach to education saw teachers hold virtual classes as well as record practical sessions in other schools to enable the students not to miss out on learning opportunities.  
These efforts caused him to be shortlisted for the Ksh 100 million Global Teacher Prize in 2018.
Ismail's push for remote access to education within the region became more pronounced during the Covid-19 pandemic.
The headteacher through various channels and projects has been the voice of students encouraging the government to address the social wellbeing of students and teachers as well as embrace remote learning.