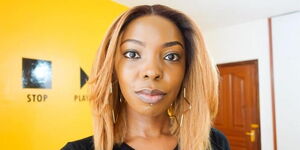 Adelle Onyango worked as a radio presenter at Kiss FM, where she presented the Saturday breakfast show for seven years.
 She had a Saturday evening program where she played African music while still at Kiss FM. 
Onyango quickly became a social media influencer, with her followers calling themselves #TeamAdelle. In 2019, she left Kiss FM.
Adelle launched the Legally Clueless podcast, which has been lauded by CNN, terming it as both a creative and educational initiative. Legally Clueless documents different stages of the unique human journey of everyday African people.
On Friday, October 8th, 2021, Adelle was part of an 11 person panel made up of various Africans, at the New Africa France Summit in Montpellier, France which was set up to interrogate the relationship between Africa and France.
She gave a speech in which she challenged French President, Emmanuel Macron, on the current imbalanced relationship that France has with Africa.