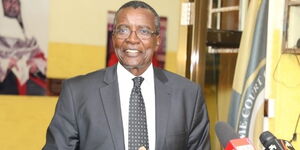 David Kenani Maraga is the Chief Justice and the President of the Supreme Court of Kenya a position he has occupied since October 2016.
The trained lawyer joined the judiciary as a High Court Judge in 2003 after working for 25 years as an advocate. He joined the Court of Appeal in 2012 where he served as the Presiding Judge of the Appellate Court in Kisumu.
During the same time, Maraga was charged by former Chief Justice Willy Mutunga to chair the Kenya Judiciary Working Committee on Elections Preparations.
Later on, President Uhuru Kenyatta appointed Maraga as the chair of a tribunal that probed the conduct of former High Court Judge Joseph Mutava, with the tribunal recommending that Judge Mutava acted in an inappropriate manner.
In 2017, Chief Justice Maraga with three other Supreme Court Judges made history by annulling the presidential elections forcing the Electoral Body to repeat the presidential elections.
The Chief Justice in July 2020 launched an electronic filing programme that promised to end the 'disappearance of case files' and inject transparency in the judiciary.
In September 2020, Maraga wrote to President Kenyatta to dissolve parliament for failing to enact laws that will comply with the two-third gender clause in the constitution.
With the onset of the Covid-19 pandemic, Maraga ordered that cases will be heard and argued online, fast-tracking the digitization process at the judiciary. By May 2020, the judiciary had delivered 7,000 cases through digital platforms.