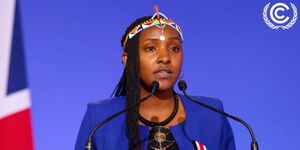 Elizabeth Wathuti is an environmental conservation and climate activist.
She is also the founder of the Green Generation Initiative and sustainability analyst at Sustainable Square, Kenya
Wathuti is a recipient of the Wangari Maathai Scholarship award a recognition she got for her commitment to championing the conservation of the environment
Her advocacy and engagement in climate change initiatives saw her get global recognition in 2022.
In September, She was named among Time 100 Next, a global list of rising stars in different sectors.
One month later - in October, she was named among the 100 Most Influential African Women in 2022.
Wathuti caught global attention after she addressed world leaders during the United Nations Climate Change Conference - COP26 event held in Glasgow, Scotland in 2021 when she got a standing ovation for rallying the world on matters of climate change.  
She holds a bachelor's degree in Environmental studies and community development from Kenyatta University.