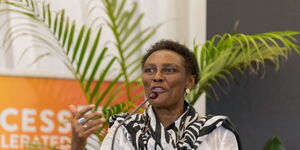 Dr Eva Njenga is the Chairperson of the Kenya Medical Practitioners and Dentists Council (KMPDC).
She holds a Master of Medicine (MMed) from the University of Nairobi and has certificates in Social Medicine and Medical Anthropology from Havard University. 
She is also an accomplished lecturer at the University of Nairobi. Her experience as a tutor spans over 10 years and is credited for her significant input at the university's School of Medicine. 
During the pandemic, she was actively involved in mitigation efforts as the team leader of the Ministry of Health Technical Team for Mitigation of the COVID-19 Pandemic and strengthening of Health Systems for UHC in the 47 Counties in Kenya.
Her overall efforts in creating awareness and problem-solving in the health sector culminated in her recognition and conferment of the Moran of the Order of the Burning Spear (MBS) by former President Uhuru Kenyatta.