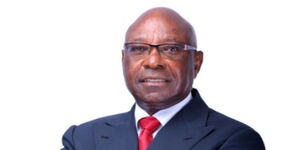 Jimnah Mbaru is the owner of the Dyer & Blair Investment Bank which was established in Kenya in 1954. 
The company specialises in Corporate Finance and Advisory and currently handles the largest Initial Public Offering (IPO) for MTN Uganda.
Before vying for the Nairobi Gubernatorial elections in 2013, the businessman was appointed by the government to serve in different capacities.
In 2000 the businessman was appointed by President Mwai Kibaki as the Chairman of the Nairobi City Council Interim Oversight Boards and was charged with managing the finances of the defunct city council.
Additionally, he served at the Nairobi Securities Exchange and was the vice-chairman (1992-1992) and the executive chairman (1992-2001).
After the 1998 Bomb attack at the US embassy in Nairobi, Mbaru served as the vice-chairman of the National Bomb Blast Committee that was tasked with overseeing donations disbursed after the terrorist attack.
Mbaru is an accomplished academician having graduated with a Bachelors' degree in Science and a Bachelor of Law from the University of Nairobi. He is also a master's graduate in Business Administration.
Think Business Africa's Investment Awards honoured Mbaru with the 2016 Lifetime Achievement Award for his outstanding contributions to the securities exchange and investment sector in Kenya and the region.