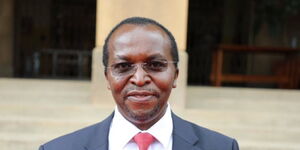 Justice Daniel Kiio Musinga has amassed over 21 years in the Judiciary essentially establishing himself as one of the top judges in the country. 
The current Court of Appeal President is synonymous with the ruling delivered on the Building Bridges Initiative (BBI), where he declared the agenda as unconstitutional on August 20, 2021
Hailed as a landmark ruling, the judge has a reputation of ruling against the high and mighty.
Among the rulings in his stellar career include: nullifying the creation of 256 districts, that had over a period of 17 years, been created at the prerogative of both President Daniel Arap Moi and his predecessor - Mwai Kibaki.
Justice Musinga also ruled against the appointment of Judge Alashir Vishram and lawyer Githu Muigai as Chief Justice and Attorney General respectively, during Kibaki's reign in 2011.
The Court of Appeal boss has also been advocating for social justice as well as the need for increased judge appointments to reduce the case backlog issue within the judiciary.