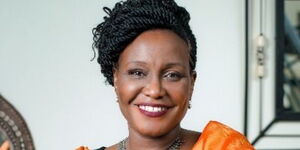 Laila Macharia is a Kenyan lawyer, business woman, entrepreneur and angel investor who is the chairperson of the Africa Leadership Initiative (East Africa). 
She is a non-executive director at the Africa Digital Media group, ABSA Kenya plc (previously Barclays Bank) and Centum Investments, the largest listed private equity firm on the Nairobi Stock Exchange.
Macharia is the founder of Scion Real, an investment firm that focuses on urban development in Africa. The firm offered transaction advice to the governments of Guinea, Kenya, Rwanda and South Sudan in the field of public-private partnerships for urban housing and development.
Further, Scion Real raised funding commitments of more than Ksh 3B ($30 million) for private projects.
Scion Real was appointed to structure investor opportunities for Konza Technology City and also worked on the World Bank project identifying private sector investment for commuter rail stations under Nairobi Metro 2030.
Her work  experience includes working as a corporate associate at Clifford Chance in New York, managing an Africa-wide funding portfolio at the Global Fund for Women in Palo Alto California.
On an ongoing basis, Macharia offers thought leadership, supporting leaders and entrepreneurs across the world.
Macharia has authored several publications. Her academic inquiries focus on the sociology of law, with a particular interest in market, regulatory and constitutional reform. 
Her current research focuses on how formal law and policy is negotiated in real life and how legal culture evolves, especially as societies modernize.
Some of her publications include; Models of Election Commissions in Africa (International Foundation for Election Systems, 1995), PhD Dissertation: Informal Institutions and Telecommunications Reform in Kenya, Voice and Reflexivity in Essential Resources: Reforming the community Land Regime in Kenya in Governing Access to Essential Resources Columbia University Press, 2015.
Macharia is a fellow of the Aspen Institute's Africa Leadership Initiative 2010.