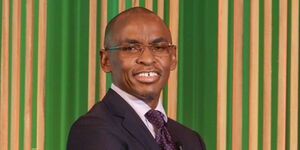 Peter Ndegwa is the Chief Executive Officer (CEO) of Safaricom PLC having taken over the position on April 1, 2020. He is the first Kenyan to serve as Safaricom's CEO.
He has an academic background in accounting with an MBA from the London Business School and a Bachelor's degree from the University of Nairobi.
He began his career at PwC as a consultant and then relocated to London, UK under the firm's talent development programme in 1996. In 1999, he transitioned from the Accountancy practice to the Consulting & Corporate Finance Unit at PwC.
The decorated CEO was the managing director of Diageo Continental Europe. In this role, he oversaw business in over 50 countries in Western and Eastern Europe, Russia, the Middle East and North Africa.
Ndegwa is credited with the development of an affordable-beer strategy for EABL resulting in the production of new brands such as Senator beer which became one of the most successful innovations by Diageo.
In May 2021, under Ndegwa's leadership, Safaricom was awarded the "Outstanding Contribution to the Mobile Industry Award" by GSMA.
In October 2021, the telecommunications giant received honorary recognition from the IGAD Climate Prediction and Applications Centre (ICPAC) East African Climate Action Awards.