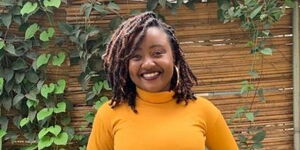 Wawira Njiru is a Kenyan businesswoman, entrepreneur, human nutritionist, and philanthropist.
She is the Founder and Executive director of Food 4 Education, an organization that cooks, prepares, and distributes nutritious meals to over 2,000 needy schools in Ruiru.
In 2011, the initiative provided subsidized lunch to 25 children from underprivileged backgrounds in Ruiru. 
Through online campaigns to raise money to fund her project, Wawira has been able to stay the course.
Fast forward to 2019 and the initiative now feeds more than 3,000 school children every day and employs 30 people including cooks and drivers. 
Njiru was the first to win the global citizen prize for youth leadership and in 2021, was awarded the United Nations Person of the year.
Further, she is a fellow at the prestigious world economic forum.
She is a graduate of the University of South Carolina.