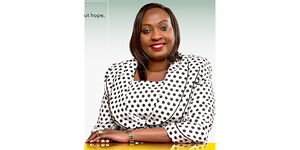 Anne Kananu is the incumbent Nairobi Deputy Governor - a position she took over in January 2021 having remained vacant for three years.
She graduated with a Bachelor of Science Degree in Criminology and Security Management from Dedan Kimathi University. She also obtained a diploma in Criminology and Security Management from St. Paul's University in 2013.
Anne Kananu has maintained a low profile before her designated role as the Nairobi Deputy Governor. 
Previously, she was the Nairobi County Chief Officer for Disaster Management and Coordination, a position she had held for the last two years. 
Kananu has also served as a security supervisor in charge of quality control and training at the Kenya Airports Authority for 13 years.
She has been steadfast in implementing projects and reforms within various sectors in Nairobi such as the education sector where she revealed that 520 teachers would be posted around the city.
Kananu also handed over Ksh1.3 billion worth of pending bills to the Nairobi Metropolitan Services (NMS) for processing of payment.
Further, she launched a crackdown on land grabbers within the city affirming that all public land taken by private developers would be reclaimed.
She also partnered with NMS boss Badi to commission 24 hospitals in Nairobi in a bid to aid in the fight against the pandemic. Both bosses added that the 84 wards in Nairobi would have at least one hospital that would bring health services closer to the residents.