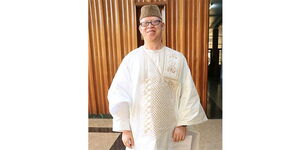 Isaac Mwaura is a nominated senator representing persons living with disabilities in Parliament and has helped increase their visibility in national mainstream politics.
Mwaura was born in Githunguri, Kiambu County in 1982 and faced prejudice and discrimination from the neighborhood for being an albino. 
Mwaura has a bachelor's degree in special education, french studies and Japanese from Kenyatta University.
Additionally, he has two master's degrees; Masters in Arts in Development Studies from Nelson Mandela Metropolitan University (South Africa) and Masters in Arts in Social and Public Policy Studies from the University of Leeds (United Kingdom).
While still a university student and aged 22 years, Mwaura was appointed as a board director to the National Council for the Persons with Disabilities, making him the first youngest board member in Kenya.
As a founder board member, he immensely contributed to its establishment and the institutionalization of systems and structures of the state agency.
He is also a founding member of the Albinism Society of Kenya and has been the National Coordinator. Some of his notable achievements include;
-Successfully petitioned parliament to allocate Kshs 100 million towards provision of sunscreen and other services for Persons with Albinism (PWAs).
-He also wrote a concept paper that was adopted by the government to set up the national albinism sunscreen and support program under the NCPWD.
Mwaura is the first Member of Parliament (MP) in Kenya with albinism.  Previously he was a Member of Parliament (MP) in the National Assembly (between 2013 and 2017) after having been nominated by the Orange Democratic Movement Party to represent Special Interest Groups. 
Mwaura served as a senior adviser to former Prime Minister Raila Odinga from 2010 to 2012 on public policy on special interest groups.
The lawmaker has successfully championed the increase in budget allocation to the National Council for Persons with Disabilities from 770M to 1.8B.
Mwaura is also the pioneer and the founding chair of Kenya Disability Parliamentary Association (KEDIPA), a caucus of Members of Parliament with disabilities in Kenya.
He has successfully helped build capacities of Senators, MPs and MCAs through parliamentary trainings
and exposure visits in order to improve quality of representatives.
Furthermore, Mwaura in 2018 petitioned the Central Bank of Kenya to ensure the new currency is accessible to persons with visual impairments, which was adopted and implemented.
Mwaura has authored two books; Human rights disability and development in Kenya; A discourse and Youth employment in Kenya; inclusion of persons with disability in employment.