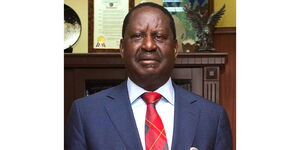 Raila Odinga is the former Prime Minister Raila Odinga of Kenya - and opposition leader. 
Raila attended Kisumu Union Primary, then Maranda High School before moving to Germany for his university degree. 
He returned to the country and joined politics, and was in 1992 placed under house arrest over the 1982 coup. He was later charged and detained without a trial.
The last two years has seen Raila work closely with President Uhuru Kenyatta after their handshake in 2018 - and which according to political analysts has helped the country to forge forward united.
Raila has been keen on ensuring inclusivity in Kenyan politics and spent 2020 and part of 2021 pushing for the adoption of the Building Bridges Initiative (BBI). 
On matters away from politics - Raila has pushed for tolerance and love among families and couples - and has been keen on gender violence especially against women in the society.
Raila has been a leading force in the opposition - where he put the government of the day in check and demanding accountability.