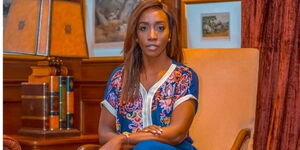 Yvonne Okwara is a renowned media personality whose media career spans over a decade. She is currently a Senior News anchor at Citizen TV. 
Her journey began at Kenya Broadcasting Corporation (KBC) at the age of 8 years, where she did a variety of children's shows and voiceovers for adverts. 
An alumnus of Jomo Kenyatta University of Agriculture and Technology (JKUAT), Okwara studied microbiology but she ended up in journalism with her first job in media at Nation Media Group (NMG) before moving to Kenya Television Network (KTN) for a five year period.
Okwara moved to Royal Media Services in 2018, where she is currently a prime time news anchor. She is also the host of the News Gang panel where Okwara and four of her colleagues comment and dissect top stories that made the headlines. 
The experienced TV anchor has built an image as a candid, balanced and thoughtful media leader. 
A particular episode, on September 10, 2020, saw the vocal anchor tearing leaders and citizens over comments deemed insulting towards founding First Lady Mama Ngina Kenyatta.
Okwara noted how Kenyan mothers faced injustices every day but no one seemed to voice their opinion. She reiterated that for the country to move forward, it was time to put all Kenyan mothers, girls and women on the same pedestal and desist from double-standards.